Complete 2023 Guide for an Unforgettable Adventure in Medellín
Medellín, the capital of the Antioquia department in Colombia, has undergone a remarkable transformation in recent decades. Known as the "City of Eternal Spring," Medellín has left behind its turbulent past and become a vibrant and exciting tourist destination. In this comprehensive travel guide, we'll take you on a journey through this fascinating city, providing information on the best places to visit, where to stay, where to eat, must-see cultural activities, and safety tips to ensure you make the most of your visit.
Must-Visit Landmarks
Botero Square Botero Square pays tribute to the famous Colombian artist Fernando Botero. Here, you'll find 23 monumental sculptures of his most iconic works. It's an ideal place for photos and immersion in Colombian art.
Comuna 13 A visit to Comuna 13 allows you to discover Medellín's history and transformation. This once-dangerous area is now a symbol of resilience and creativity with its colorful murals and the famous "Escarabajo."
Botanical Garden If you love nature, the Botanical Garden is an oasis in the city. Stroll through lush gardens and explore Colombia's biodiversity.
Arví Park Located on the outskirts of the city, Arví Park offers a perfect nature getaway. Enjoy hiking, cycling, and outdoor activities surrounded by spectacular scenery.
Medellín Museum of Modern Art (MAMM) This museum houses an impressive collection of contemporary art and offers changing exhibitions by national and international artists.
Accommodation in Medellín
Medellín offers a wide range of accommodation options for all budgets. Some popular areas to stay include El Poblado, Laureles, and El Centro. Here are three standout options:
Hotel Dann Carlton Located in El Poblado, this luxury hotel offers first-class amenities such as a pool, spa, and gourmet restaurants.
Hostal Ondas Medellín If you're looking for an economical yet comfortable option, this hostel in Laureles is an excellent choice. It offers shared dorms and private rooms.
Charlee Hotel This boutique hotel in El Poblado combines contemporary design with stunning city views from its terrace. It's perfect for travelers seeking a modern and elegant atmosphere.
Culinary Experience
Medellín's cuisine blends traditional flavors with avant-garde dishes. Don't miss these dishes and places:
Bandeja Paisa Antioquia's traditional dish, bandeja paisa, includes meat, rice, beans, fried egg, chorizo, and avocado. Try it at Hacienda restaurant.
Arepas Arepas are a delicious breakfast option. Find them at local shops known as "areperías."
Carmen Restaurant For a high-end culinary experience, visit Carmen. This restaurant offers a creative mix of Colombian and international dishes.
Cultural Activities
Medellín boasts a vibrant cultural scene. Be sure to include these activities in your itinerary:
Antioquia Museum In addition to Fernando Botero's works, this museum houses an impressive collection of colonial and contemporary art.
Metropolitan Theater Check the schedule for concerts, opera, and other artistic performances at this renowned theater.
Feria de las Flores If you visit in August, don't miss the Flower Festival, a colorful celebration with parades, cultural events, and flower exhibitions.
Safety Tips
Although Medellín has significantly improved in terms of safety, it's important to take precautions:
Avoid displaying valuable items in public.
Use authorized taxis and avoid hailing taxis on the street.
Stay informed about areas to avoid after dark.
Local Events and Updates
Medellín always has something exciting to offer. Check local events and updates online or at the tourist information center to stay up-to-date with what's happening during your visit.
In summary, Medellín combines modernity with tradition, culture with nature, and excitement with relaxation. We hope this comprehensive guide helps you plan your trip and experience the best that this city has to offer. Welcome to the City of Eternal Spring!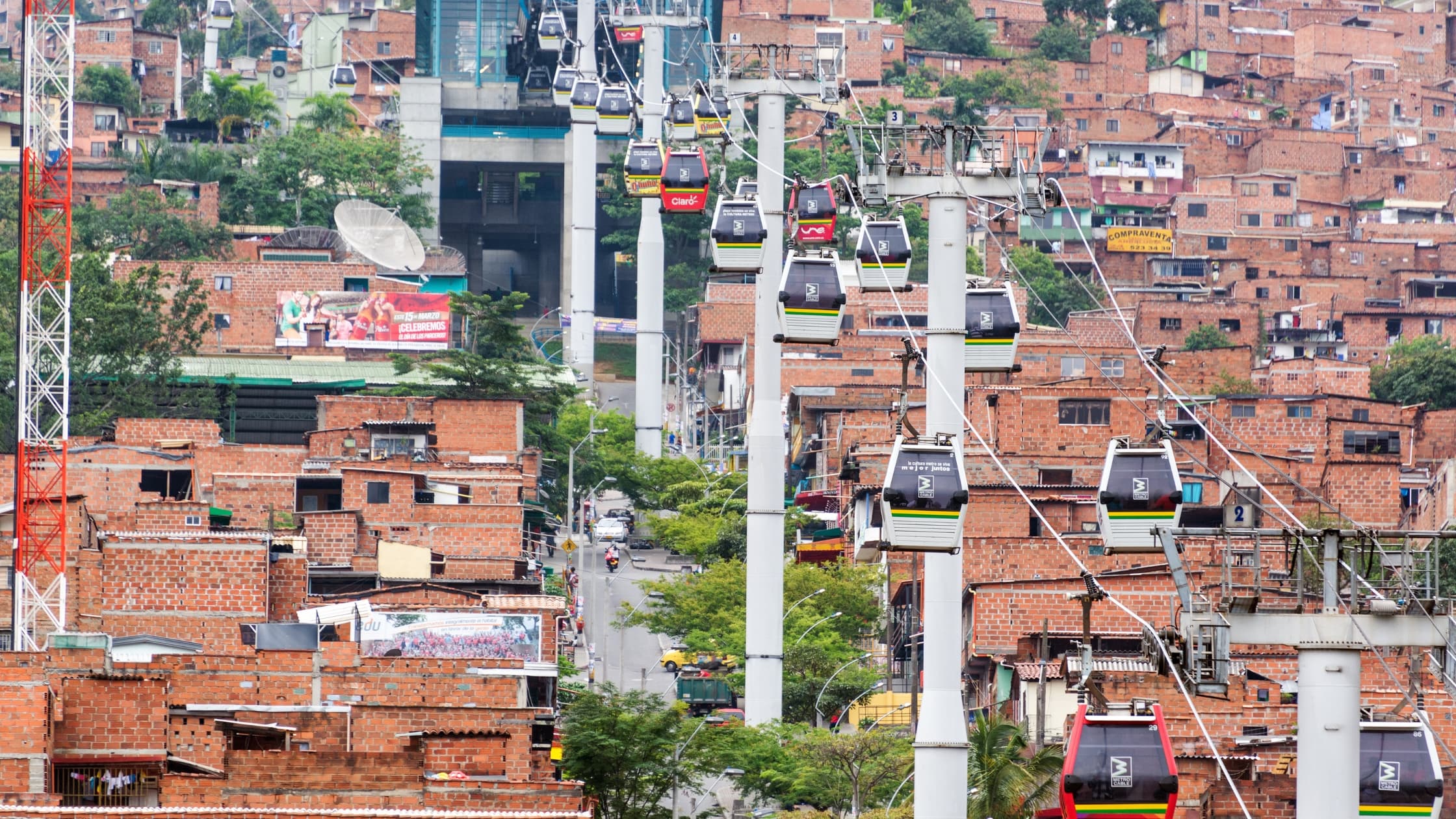 Transportation and Mobility
Medellín Metro One of the most efficient and cost-effective ways to get around the city is by using the Medellín Metro. Besides being fast and safe, it offers breathtaking panoramic views of the city, especially on Line L.
Metrocable The Metrocable system is a source of pride for Medellín and provides access to some previously inaccessible mountainous areas of the city. You can take the Metrocable to places like Santo Domingo Savio or Parque Arví.
Tram Medellín's tram system runs through the city center and is an excellent way to explore the historic center and its charming cobblestone streets.
Shopping in Medellín
If you're a shopping enthusiast, Medellín has much to offer:
El Tesoro Shopping Center This luxury shopping center in El Poblado features designer stores, gourmet restaurants, and a panoramic view of the city from its terrace.
Mercado del Río La Strada If you're looking for a unique culinary experience, visit this gastronomic market in El Poblado. It offers a variety of restaurants and gourmet food stalls.
Plaza Mayor Crafts Fair To take home authentic souvenirs, visit this crafts fair where you'll find local products like vueltiao hats, Wayuu bags, and more.
Nightlife in Medellín
Medellín comes to life after dark. Here are some recommendations for enjoying the nightlife:
Parque Lleras Parque Lleras in El Poblado is the epicenter of nightlife in Medellín. There are plenty of bars, clubs, and restaurants to choose from.
Calle 70 If you're into salsa music and dancing, Calle 70 is the place to be. Locals and visitors gather here to dance and enjoy live music.
Ciudad del Río This area has emerged as a nightlife entertainment hub with bars, nightclubs, and special events. It's an excellent choice if you're looking for a memorable night out.
Family Fun
If you're traveling with children, there are many family-friendly activities available:
Explora Park An interactive science and technology museum that will captivate both children and adults. It features interactive exhibits and an impressive aquarium.
Parque Norte An amusement park with roller coasters, rides, and a wave pool that guarantees fun for the whole family.
El Castillo Museum A castle converted into a museum surrounded by beautiful gardens. It offers educational activities for children and art exhibitions.
Local Updates
Medellín is constantly evolving, so it's essential to stay updated on the latest news and local events. Check the city's tourism websites and social media channels for current information on festivals, art exhibitions, concerts, and other special events during your visit.
In conclusion, Medellín is a city that seamlessly combines modernity with tradition, culture with nature, and excitement with relaxation. We hope this guide helps you plan your trip and experience the best of what this city has to offer. Enjoy your adventure in the City of Eternal Spring!